Tomorrow morning voters across Cambridgeshire and Peterborough will head to the polls to decide who will be the first Mayor of Cambridgeshire and Peterborough.
At a private event recently held by Snapdragon and Strutt & Parker, for an audience of those working across the housing, development and construction industries, the Conservative, Liberal Democrat, and Labour candidates exchanged views on what lessons can be learnt from the Mayor of London's role.
During the campaign, housing and infrastructure have emerged as the two linchpin issues. All three candidates agreed that housing is expensive for many people living in Cambridgeshire, although each has a different take on possible solutions.
Bookies favourite, Conservative candidate Cllr James Palmer, suggested that Community Land Trusts could have a big role to play in solving the lack of availability in affordable housing. Cllr Rod Cantrill, the Liberal Democrat's candidate, claimed that Cllr Palmer focussed on Community Land Trusts but that this could only form a very small part of the solution to Cambridgeshire's problem. However, he did not offer any clear policy direction of his own. Cllr Palmer accused Cllr Cantrill and Cllr Kevin Price, Labour's candidate, of being 'obsessed with Cambridge'.
Whilst perhaps this is a just point, as both these candidates have chosen to focus on the city during their campaigns, it's also the case that Cambridge and the surrounding area is where the demand for new housing is greatest.
The Mayor will take charge of a new Combined Authority, which will cover the whole of Cambridgeshire, and supervise the distribution of a pot of £170 million in funding for housing over the next five years. As part of the Devolution Deal that saw the Combined Authority and Mayor's position created, £70 million of that funding was ringfenced for Cambridge, for which Cllr Kevin Price claimed credit.
The Mayor will also have the power to develop a Land Commission with the Government. Whether the Land Commission will be able to get its act together in time to make good recommendations on how that £170 million should best be used remains to be seen. Although the £100 million for Cambridgeshire and Peterborough is a significant sum, where and how it is used in the county could see it have a variety of impacts. Likewise, the £70 million for Cambridge will find a skyline that is already busy with cranes and few plausible large sites within the city boundaries. I am sceptical about whether the money will have a big impact on affordable housing supply.
Voters will also select Councillors to send to the County Council, in the first of two elections they can look forward to over the next two months. The forthcoming General Election on 8 June could have a variety of effects on voter turnout. If voters feel that being asked to vote twice is too much, they may only choose to vote in the election that they think will have the greatest effect on their lives. Given the solid Conservative victories throughout most of Cambridgeshire in recent elections, it is unlikely that any depression in turnout could snatch the Mayoralty from Cllr Palmer.
I anticipate that he will win the election, with Cllr Rod Cantrill coming a moderately distant second in the vote. It would have been interesting to have seen the Mayoral election on the same day as the General Election and whether this would have had a bearing on the results, but that might be asking for a bit too much!
If you'd like to read more about the event and what the candidates had to say, check out this article in the Cambridge Independent – http://www.cambridgeindependent.co.uk/news/cambridge/cambridgeshire-mayor-candidates-reveal-their-plans-for-their-first-hundred-days-1-5001710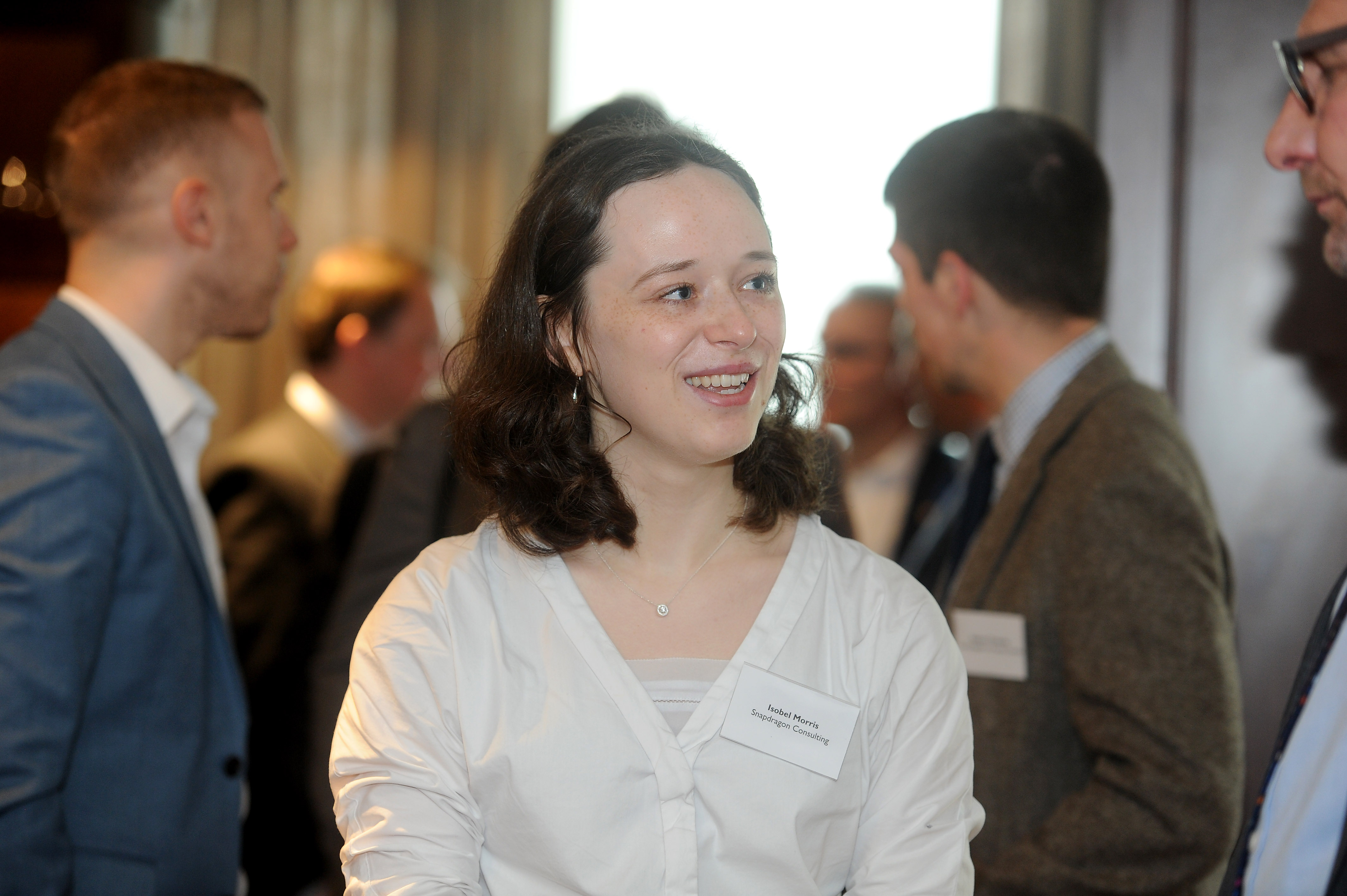 Snapdragon's Isobel Morris talking to Conservative candidate Cllr James Palmer